For over a century, UPS has been connecting people from all over the world. What started as a small messenger company in Seattle, Washington in 1907, evolved into a leader package delivery and supply chain management service. Its history only proves that the ongoing efforts that the company has taken go beyond expanding its services from country to country. In fact, UPS did not become a multinational company until only 45 years ago, in 1975 when it first established operations in Canada and then in 1976 in Germany. But, for 112 years UPS has instituted a corporate culture that encourages sustainable practices at every corporate level and with their partners.
The growing concerns of climate change, community diversity and technology development, however, have brought unprecedented challenges for its development, yet they created fashionable opportunities for the company to foster and expand its core values in all the 220 countries they operate in.
Thus, the last two years UPS has constituted a series of performance initiatives focused on 7 different areas, including: Transformative Vision, Bold Ideas, Diversity and Inclusion, Innovative technology, Collaborative Partnership, Talent and Teamwork and Community resilience. All which synergistically work to make UPS's services more proactive toward the ongoing and upcoming challenges of the 21 century.
"Our business seats at the intersection of disruptive trends, such as rapid urbanization and e-commerce growth, and associates challenges such as congestion and climate change. Through continuous innovations we are capitalizing on disruption to shape a future in which more people prosper, enterprises run more effectively, and resources are conserved for future generations"
According to UPS 2018 Corporate Sustainability Progress Report the company is undergoing transformations that not only strengthens their business but positions them to operate sustainable. Ever since 2009, UPS has been investing more than one billion dollars in alternative fuels and advanced technology vehicles globally. "By 2020, one in four UPS vehicles would employ alternative fuel or advance technology and 40% of ground fuel will come from sources other than conventional fuels and 25% of electricity will come from renewable resources" (UPS Sustainability Report, 2018).
Through partnership programs UPS is expecting to achieve a higher impact. They are working with companies like Tesla, being among the first companies to receive 125 fully electric semi tractors. And the company is partnering with different cities in order employ practices that alleviate congestion and traffic. Testing for cargo eBikes have began in cities like Seattle, Hamburg and Paris. For 2025, they expect to have reduced the obsolete Greenhouse Gasses emission by 12%. Given the far reaching impacts of the nature of their business, they have established an ambitious goals that would allow them to continue to operate responsibly and sustainably.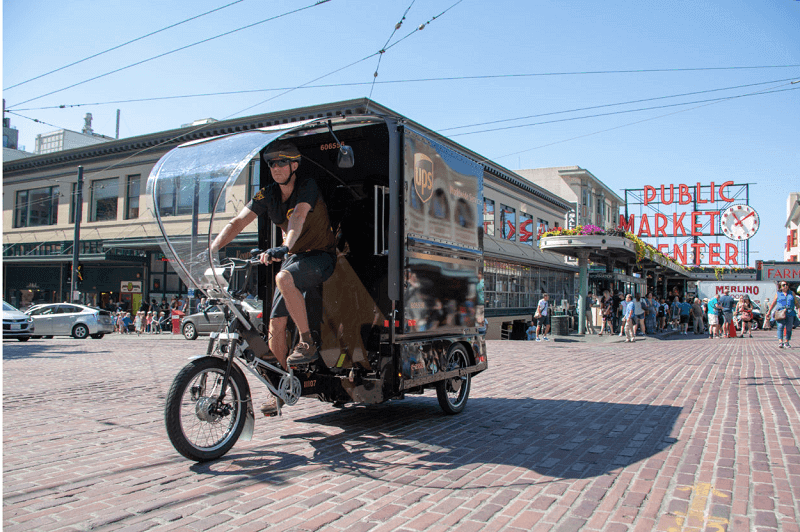 But UPS efforts go beyond reducing their GHG. Through years of research they have come to realize that business operations have a collaborative impact when they focus in improving business aspects at all corporate levels. Since 2018, they have created initiatives that promotes creative thinking, collaboration and communication. This has promoted safety practices for their drivers that not only makes UPS's environment more safe and reliable but it has increased the efficiency of their operations by tackling with the costs of delays and accidents. Within the most outstanding of these practices is UPS's "Safety Baton", a "0/0" initiative (0 car accidents and 0 injuries) where drivers are to pass a set of batons from one location to the next. Every time a location holds a baton, they are challenge to to step up safety monitoring and training programs to operate accident and injury free.
The batons traveled beyond 50 states and 30 countries, from Hawaii to Russia's Red Square. The results were went beyond promoting safety, it actually brought employees together to work collaboratively and more efficiently promoting a sense of community and teamwork. In that same way, through the years UPS has developed a set of incubation programs to employees and customers to come with solutions and help the overall advancement of the entire supply chain. "The convenience of free returns comes with effects we might not always think about. I was shocked to discover that the majority of returns go directly to the landfill: 4 billion pounds of returned clothing end up in the landfill each year" said Aparna Mehta, the Global Solutions Director. As she planted the seed of her concern 80 teams, comprised of 240 UPSers submitted ideas for new business opportunities. From these, four different teams including Greenturn proceed to the incubation stage and received funding to operationalized new solutions and services that will help customers streamline by conducting transactions that avoid all the waste generated from returns.
E-commerce continues to grow and UPS expands globally, they have also ensured that the demographics and experiences of their workforce and supply chain base reflect their values and that of the wide range of customers they serve. For that, diversity and inclusion is a top priority and something they practice on a regular basis by integrating strategies that the leverages people across complex global networks. Their programs cultivate and foster inclusive environment that ultimately increases talent engagement across their four pillars: employees, customers, communities and suppliers. Their community goes beyond the scope of their supply chain and they have taken the responsibility of managing the flow of medical aid in remote areas and relief supplies in the wake of disasters. The aftermath of the tsunami and earthquake that struck Palau, Indonesia in 2018, where UPS delivered five trucks for use in daily shipments in the regio, is only one of the few examples of how the company uses their Logistics and Emergency Team to tackle on crisis.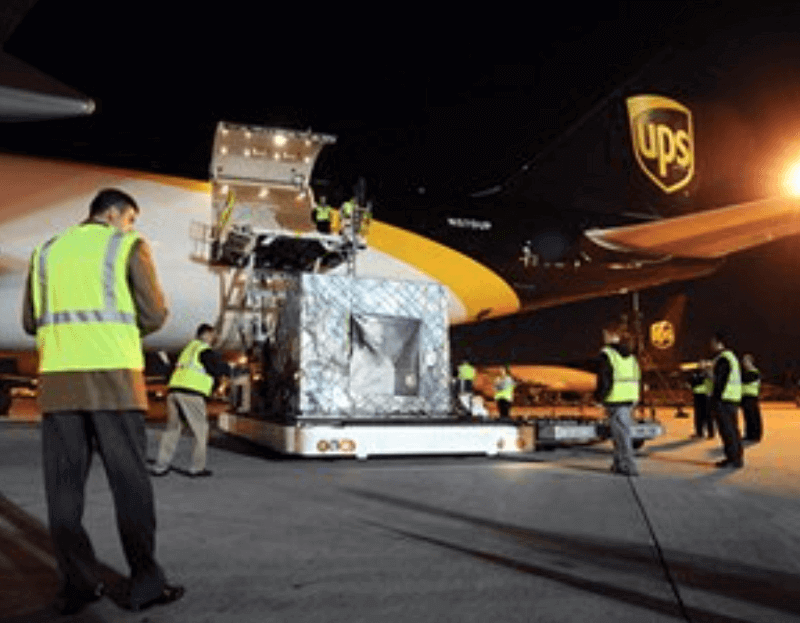 As UPS continues to grow so does its efforts to proactively support and promote social responsibility and efforts that encourages a more sustainable future throughout the entire supply chain industries. From warehourses, to retail stores and package delivery, UPS's resilience mentality broaden their reach and overall impact by promoting effective and ongoing change. For a more detailed explanations of UPS 2018 sustainability report, click on the link below.
https://sustainability.ups.com/sustainability-strategy/
* Writer by Bernarda Chiriboga