Nowadays, people are finding out that there's more in life – and business – than just money and profiting. Oprah Winfrey is always talking about how spirituality is important in her daily routine. Along with the inspiring Winfrey, many other entrepreneurs, like Arianna Huffington, are putting the well-being of their employees on priority.
We know that is not that common to talk about spirituality, much less when it comes to spirituality in business. But it's time for entrepreneurs and business owners to understand that bringing values and purpose into their companies can help the employees' performance, the work environment and be the key to success.
For starters: What's Spirituality?
It can mean different things, to different people. In short, spirituality is related to a certain decentralization of the thoughts of the particular self and to think that there is something bigger at stake. To think that we are guided by some greater force. That force connects us to each other, to the planet, and to the universe.
For some, it's primarily about a belief in God and being part of an organized religion. But, on the other side, some people say that it's about non-religious experiences that help them get in touch with their spiritual selves through quiet reflection, time in nature, private prayer, yoga, or meditation. In other words, it's not necessarily related to a specific religion. It can be just to be open-minded about life on earth and the impact and relations we build.
So, Spirituality in Business is…
When a company takes into account values and purpose. These companies value each individual who contributed to it. And, also, contribute to creating a better work environment that brings more happiness and fulfillment to employees. Consequently, it helps in the performance and psychological issues of their team.
By applying spirituality in business, the company comes to the understanding that profit is a consequence of work that is concerned with the impacts on the environment, its consequences and with the legacy they are building.
The differences between spiritual organizations and others are clear. Those who adopt these practices rethink how they hold and react to the events that surround them. In a spiritual organization, people are aware that they are there because they chose it and that choice makes them proud.
People on the team accept that they are masters of their own destiny and tend to treat each experience as an opportunity for personal growth. Thus, when they get angry or their ego gets bruised, they are more able to work with those situations in constructive ways.
Meet Luke Kohen: the Ecopreneur that Can Help Your Business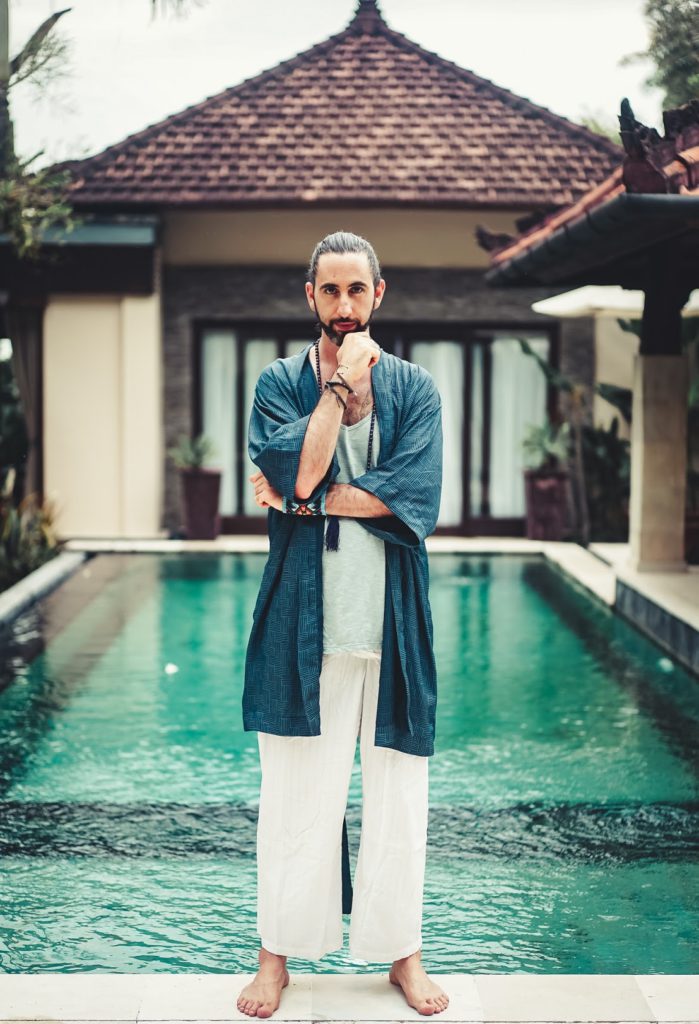 If you are an entrepreneur and don't know Luke Kohen yet, our tip is: please, do so!
The New York musician is also an Ecopreneur that helps brands to bring out their best side. With his coaching, he shows to business leaders and companies that by applying ethical values and integrity, they can be profitable, but, most of all, build a better world.
By creating regenerative systems, Kohen believes that it's possible to elevate the human experience, promoting connections with the earth and with each other, in a healthy way.
Spirituality in business can – and will – change the world. "It's essential that companies think about other generations", Kohen states when defending sustainability and social consciousness.
After experiencing several difficulties and personal problems, but mainly after losing his brother-in-law on 9/11, Kohen had to rebuild a connection to himself in order to find peace. And it's was the spirituality that helped him "rewake my gifts as a soul", as he says.
Then, he brings his personal experiences and shows companies that money is going to build a new world. That's why Kohen states that it's important to "neutralize your relationship with it and use it for good". When the companies and each one of us understands that everything we do on the planet leaves an impact and if each of us is aware of it, we will, from now on, leave a positive, inspiring and sustainable legacy, building a healthier world for future generations.