Paralympic Games are filled with extraordinary people who do not let their disabilities define them.
Read more to learn the history of the Paralympics and a featured story.
A Brief History of Paralympic Games
The Paralympics started to develop after Sir Ludwig Guttmann created a sports competition for British World War II veterans with spinal cord injuries in England in 1948. After that in 1952, the Netherlands joined on. Finally, in 1960 Rome, the first Olympic-style game in Rome was made for disabled athletes. The Paralympics are held in the same place as the Olympic spaces and the same process. With the help in 2001, the agreement was made known as one bid, one city showing everyone is exclusive.
Paralympics has grown from 1960 having 400 athletes with 23 countries represented with over 4,200 athletes from 164 countries playing over 20 sports. 
Paralympic athletes compete in six different disability groups—amputee, cerebral palsy, visual impairment, spinal cord injuries, intellectual disability, and "les autres" (athletes whose disability does not fit into one of the other categories, including dwarfism). Within each group, athletes are further divided into classes on the basis of the type and extent of their disabilities. Individual athletes may be reclassified at later competitions if their physical status changes.
Popular Sports for Paralympic
Wheelchair Rugby the sport is affectionately known as "murderball" takes center stage during the final weekend of the Paralympics. Canada's had two nail-biter matches during the preliminary round, first a win against Great Britain, followed by a loss yesterday to the Aussies, who beat Canada for gold during the London 2012 Games.
Today, Canada battles its neighbors to the south in a semi-finals clash with Team USA. Badminton and Taekwondo, will both make their debut at the Tokyo 2020 Games. The newest winter sport is snowboard, which was first introduced at the Sochi 2014 Paralympic Winter Games.
Other paralympic sports played are Archery, Athletics, Boccia, Canoe, Cycling, Equestrian, Football 5-a-side, Goalball, Judo, Powerlifting, Rowing, sailing, Shooting Parasports, Sitting volleyball, Table tennis, Triathlon, Wheelchair basketball, Wheelchair Fencing, Wheelchair rugby, Wheelchair tennis. 
The Genesis
There are many notable Paralympians that have competed in the games since their introduction. From Trischa Zorn from the United States, Ragnhild Myklebust from Norway or even Brazil very own Daniel Dias who is Brazil's most accomplished Paralympian. There is someone new coming from Brazil! It is Luiza Fiorese whose dream from 14 years old became a reality at 24 being a Paralympian for her home country. Read more to find out about her Paralympic journey.
Paralympic Games: The Start of Paralympic Greatness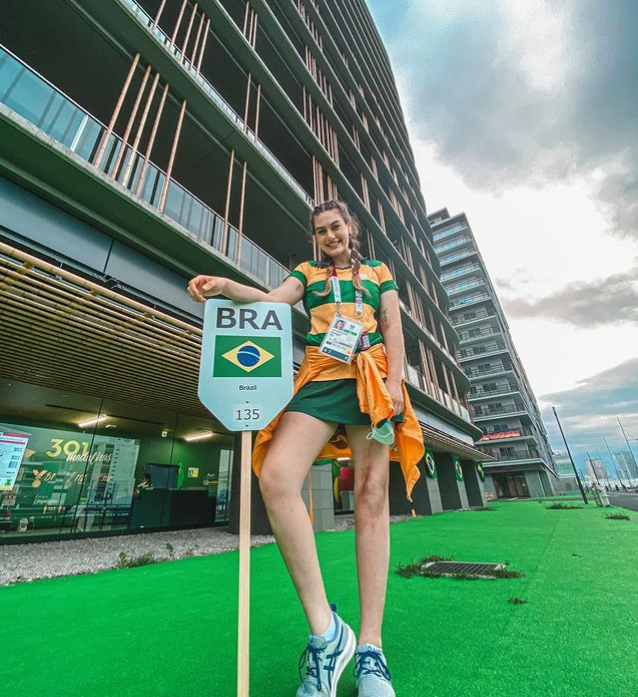 Since the age of 14 years old Luiza has always wanted to be on the Brazilian team and win medals. At 15 years old she developed endoprosthesis in her leg. It is a hardness that appears on the leg restricting it from behind properly. Luiza went to the doctor and was told she had osteosarcoma bone cancer. Surgery conducted with a prosthetic in its place. Prior to everything she played handball and had to stop for 6 years as she got herself back physically to perform.
The sport has the capacity to move us in different aspects. It is good for health, for understanding as a society, for working in groups. It's understanding that we have a bad day, that it won't always work out, but it's super important to keep training and believing in yourself. Believe in your dreams, believe that you are capable and can do what you want. Participating in the Paralympic gave her that revival. For all time
Gold Medal Mentality
She wants to go beyond being an athlete. Inspiring people; especially those with disabilities to look at her and see that life doesn't end when we become a person with a disability within the Paralympics. In fact, our life has just begun. To add on, gravitating towards women with disabilities, or women in general, to look at Luiza and be able to assume who they are, being proud of it so that they never stop dreaming. All we have today is to pursue our dreams.
As Luiza says "don't believe in this story of living for the living. I believe in living a life where we always want to look for more to accomplish everything we want. So my goal, outside of sport, is to really inspire people not only as an athlete but also as a woman and as a person with a disability".
Training Day
After surgery there were days when she was not well, nor want to train, but have to go, have to comply with schedules and commitments. But I think it's having real self-pity, to understand that these days exist, that they aren't forever, and that everyone has these days. This is an exclusive look into her training day with the national team.
"Normally, we spend 1 week of the month with the Brazilian team. The routine for training at 6:30 wake up and eat breakfast. Right after we go to training.
At this time, it's more technical training, with the ball inside the court. After 1h 45 minutes or 2 hours, we go to the gym and do gym training. Then we go back to the accommodation, have lunch, rest for a while because after 4:00 pm there is training on the court again.
This afternoon practice is more tactical, that is, it's with the whole team, we go friendly, little games. This ends around 7 pm / 7:30 pm. These are very tiring days and you end up not having time to do much, but it's pretty cool".
A Spike Into Fashion
To her fashion is not an easy question to answer. A key component she kept mentioning was authenticity. As she says…what you put of yourself in your style, your clothes, your hair, your makeup… It's all that you sterilize about yourself. So, if I were to define fashion in one word, I would say authenticity.
No Limit
In the interview we see how it's a reduced view; a vision that we are not capable of; that we cannot have dreams, have goals that are wrong. The limitation is much more in people's view and, there so many benefits of being a Paralympic.
As Luiza sees it "Man, I even crack a smile when I think about these benefits because I feel that today, being a Paralympic athlete, I have that desire to win again, that desire to fight… I feel like dreaming! Before, I spent 6 years between becoming a person with a disability and finding myself back in the sport. I was an athlete before my cancer and in these 6 years that were in between I tried to pursue my dreams, my goals in other ways, but I felt I needed more. I felt that something was missing. And it wasn't until I found myself in the sport that I felt complete again".
Did you like this article? Learn more about people with disability and their relation to fashion in our article!