Norway is one of the world-leading countries when it comes to environmental sustainability. With 97% renewable electricity production now, the Norwegian government aims to reduce greenhouse emissions by 30% in the coming years. As Norway transitions to a greener lifestyle, a change towards sustainability in the Norwegian fashion industry is also taking place.Fjør Studios is one of the first start-ups in the luxury lifestyle brands focusing on consciously made leather products and accessories founded by Marita Hegertun Hamran in 2013.
Getting its name and philosophy from Hamran's summer cabin by the seashore, Fjør Studios fuses Scandinavian minimalism with slow-fashion to create functional and high-quality products. The slower production pace lets Fjør Studios offers smart solutions with comfort and traditional craftsmanship. While slowing down is the key with which the brand unlocks a luxurious experience for its customers, the slower pace also allows Fjør Studios to treat people fairly.
"Dreaming back to a simpler and slow pace life with fewer belongings, where quality and durability were important aspects of everyday life," Hamran said. "Being together with family and friends around a large dinner table, eating outside, where everyone who stopped by was offered a seat."
Leather to Kids and Knit
FjørStudios has several lines ranging from leather handbags and accessories to FjørKnit and FjørKids. However, the versatility of leather inspired Hamran, a self-taught in leathercraft, to start Fjør Studios with the handbag line.
Becoming a mother and also renovating our house gave me many new ideas to how leather can be suitable – for kids as well as interior. And the more I tried and tested out new prototypes, the more convinced I got that we needed to proceed to establish a lifestyle brand. The possibilities with this material are endless.
Hamran is a 36-year-old wife and mother who lives and runs her business from Trondheim, the third-largest city of Norway. When her first child was born, Hamran integrated the Kids line to Fjør Studios when she could not find specific products for her daughter in the kids market. The Kids line is also a way for the brand to repurpose production waste. FjørKids' durable and high-quality products are made of leftover materials from Fjør Studios handbag production.
In addition to the handbag, accessories, and Kids line, Fjør Studios hosts the Fjør Knit line to pay homage to the Norwegian hand-knitting tradition. Since it is a knitting technique that takes time and patience, the Knit line's luxurious wardrobe staples exhibit the brand's philosophy: slow-fashion.
" Your own wardrobe in a slower paste is more relevant now than ever," Hamran said. "We just released our collection of leather products especially designed for hand knitters and have received a great response. Natural materials like wool and leather is a great combination that oozes luxury."
Timeless Designs for Everyday Solutions
Hamran believes that the fashion industry can enable a life where everyday challenges are handled better through the products in the made. Consequently, FjørStudios gets their inspiration for their luxe products from everyday life and observation of their surroundings.
"Challenges regarding climate (hello Scandinavian rain), or changing between different roles in life as a woman – being a mother, businesswoman and a partner," Hamran said. "Having products that are more functional will provide a life that is simpler and easier to handle. Where we get more time and money to invest in more important things in life."
Function and quality are keywords for Fjør Studios. The brand transforms how their customers use the products with carefully thought details formulated as solutions to make everyday life more convenient. Inspired by busy moms like Hamran herself, the small key chain on the inside of the handbag was designed to get the user in and out of the door as quickly as possible.
"I think more than ever, to create a truly sustainable brand, designers must change the way we have been thinking about design in our generation," Hamran said. "We must design products that fit into to everyday life, rather than expect customers to change their life around a certain product."
Fjør Studios at the Forefront of the Fashion Revolution in Norway
Fair Labor Practices
Sustainable fashion has a global momentum right now, and many Scandinavian brands get recognition for their sustainability efforts. Both supply and demand in the fashion industry are getting shaped by the awareness of the environment and transparent production processes.
When Fjør Studios was established in 2013, sustainability was not a buzzword for brands or consumers in the fashion industry. Things changed when Rana Plaza in Bangladesh housed five garment factories, collapsed on 24 April 2013, killed 1,132 people, and injured 2,500.
"In the beginning people did not believe a change in the fashion business was needed," Hamran said. "But to many Norwegians the tragedy at Rana Plaza, Bangladesh, was an eye opener to the exploitation of humans in the textile industry. That our access to cheap clothing comes with a cost. Since this tragedy we have seen a slow change and growing attention for our brand's philosophy."
Transparency is at the core of Fjør Studios' brand philosophy and production cycle. The brand has been a pioneer in the transparent production cycle. Fjør Studios advocates the importance of using natural materials in combination with slowing down and producing less while highlighting the importance of fair labor practices.
"We encourage our consumers to ask questions, leading by example in showing transparency in production," Hamran said. "Fjør studios is at the forefront in the #fashrev movement in Norway. Basing our whole business idea on a conscious and sustainable."
Slowing Down
"In order to treat people fairly, we need to slow down," Hamran said.
With ten years of career as a designer and production manager in Oslo, Hamran has first-hand experience with the time pressure and season based cycle in the fashion industry where production is prioritized before human welfare.
"After ten years in the industry, I had a growing desire and need to take more care of the people making the products, slow down, produce less and give crafters the time they need to produce well-made products," Hamran said.
Fjør Studios works closely with its manufacturers. Unlike the traditional cyclical fashion industry, Fjør Studios stretches deadlines to ensure quality products when needed. The brand's textile factories are fair trade certified from the cotton fiber to the finished good. They work with leather manufacturers, who hire migrant workers that would otherwise have difficulties getting employed. The support continued during the pandemic, where their partnering factories have supported their employees financially even without ongoing production for months — rather than laying-off their workers.
Made with Love in Norway + India
Fjør Studios produces in cooperation with ethically conscious manufacturers in India. The brand combines Scandinavian minimalism with India's finest leather craftsmanship for innovation and timeless luxury. With "Made with love in Norway + India," Fjør Studios highlights the importance of craftsmanship, artisanship, and preservation of cultural diversity for sustainability in the fashion industry.
"I believe craftsmanship, artisanship and using the best of one's culture is the very difference between fast fashion and sustainable slow fashion," Hamran said. "It is the very reason why slow fashion will be more sustainable in a longer perspective."
The inherited knowledge of generations of leather craftsmen and the designers' vision converge in the innovative and high-quality Fjør Studios products. This teamwork lies at the heart of Fjør's partnership with the manufacturers in India.
"My ability to see things in a new way, paving the way for things they haven't seen before, and they show me the benefits and challenges with the particular design I would like to follow," Hamran said. "Though we come from different cultures, we have a genuine respect and love of great handcraft. We always strive to achieve the best possible products."
With Fjør Studios' slow-fashion philosophy, the brand and the manufacturer are freed from the cyclical constraint of fast-fashion that prioritizes profits over product development.
"In fast fashion, my experience is that ideas do not get enough time to blossom and reach their full potential," Hamran said.
Climate Change and Environmental Awareness
Environmental awareness is another important derive behind the shift towards sustainability in Norway. The country is a world leader in sustainable energy. Oslo was awarded the European Green Capital of 2019 and is one of the most ambitious European cities when it comes to green urban development. With the vision "A greener, more open and creative Oslo with room for everyone," the Norwegian capital aims for carbon neutrality by 2050.
Yet Norway still feels the impact of climate change with rising temperatures, less snow, species disappearing in waters, or migrating further north to colder climates. Since nature and outdoors are a big part of Norwegian life, people are beginning to realize that they have to change their lifestyles and consumption habits if they want to preserve the environment.
"The new modern is to show you are enlightened and reduce consumption to a minimum, use natural materials that do not harm the environment, and focus on human relations," Hamran said. "A shift that has been amplified by the Covid-19 pandemic in 2020."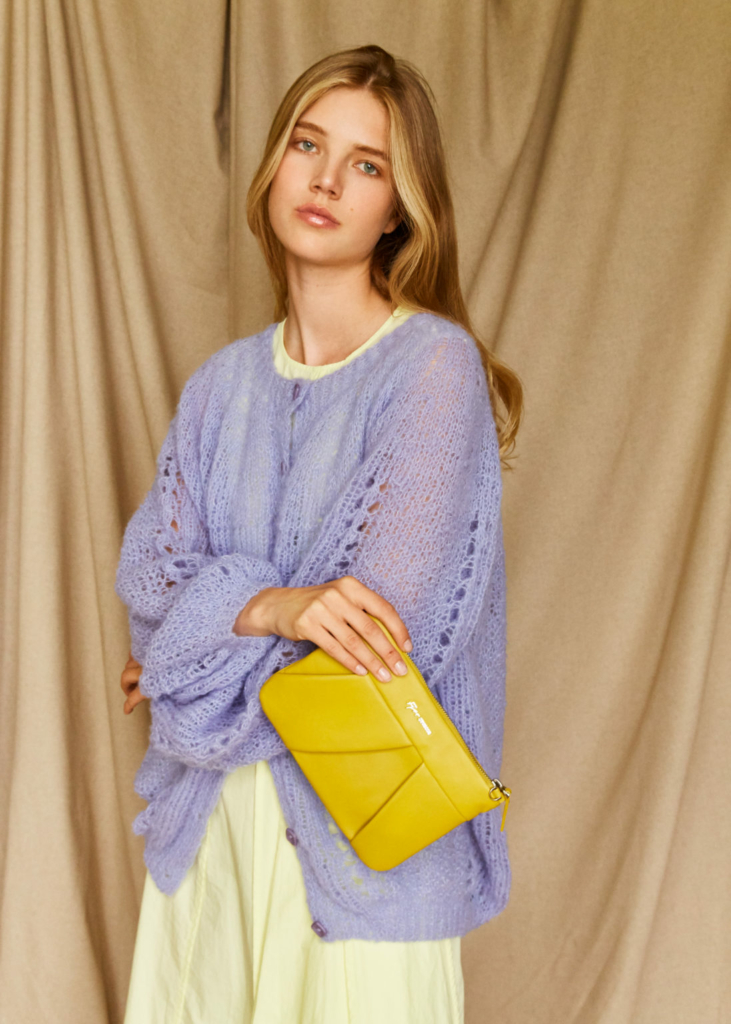 Fjør Studios: From Norway to Global Scale
While Fjør Studios is already at the forefront of the fashion revolution in Norway, Fjør Studios wants to bring Scandinavian minimalism and Norwegian slow-fashion to the global market. The brand has already gained international recognition through features in established publications such as Vanity Fair and the British Vogue.
Fjør Studios already considers a global audience with their products designed to offer solutions to make everyday life a smoother experience for all.
"Many of the same everyday challenges people face in Scandinavia is recognizable globally," Hamran said. "Juggling the role as a businesswoman at day and mother at night will be equally challenging in Berlin as in New York. Global news images from around the world during the Covid-19 pandemic has been a reminder for me that we are all equal human beings. We want the same things for our kids, more time for the important things in life."
Fjør Studios aims to be recognized as a global leather brand bringing quality, smart solutions, and craftsmanship to global consumers while encouraging its customers to opt for slow fashion and better quality for a better and more sustainable future.
Wondering about the future of the fashion industry? Join us at Fashinnovation 4th Worldwide Talks on February 11th, and learn from industry experts— register here for free!
By Elif Kesikbas