Miami, September 30, 2019 –
Miami is a city of rapid economic growth, and Endeavor Miami is committed to contributing to the economic development of South Florida from its local chapter. "Endeavor's mission is to foster a vibrant and supportive community of entrepreneurs, investors and mentors who take scale-ups to the next level," said Claudia Duran, Endeavor Miami Managing Director in her opening remarks. "What makes a city of the future?" was the Summit's central question. In the words of its speakers, connectivity, data analytics and community are the three main pillars to build tomorrow's cities. We must learn to leverage technology to democratize access to everything, including education, mobility, sustainable infrastructure, luxury goods and healthcare.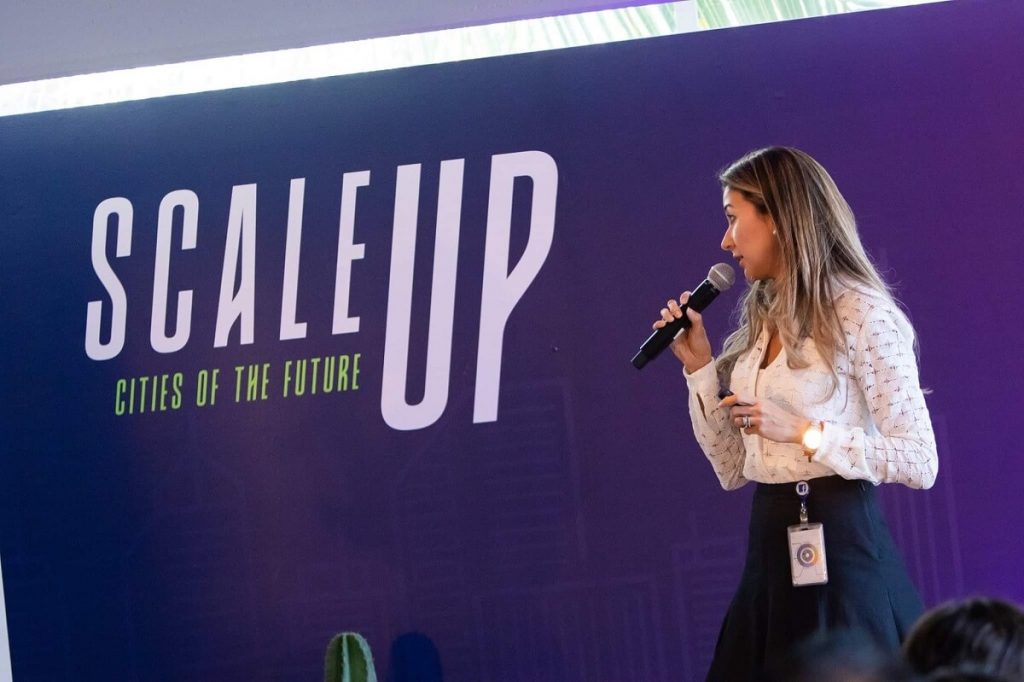 Space-tech entrepreneurs Abel Avellan from AST & Science and Emiliano Kargieman from Satellogic participated in the keynote panel on this $350 billion industry. Moderated by Cisneros Group CEO and Endeavor Miami Board Member Adriana Cisneros, the panel covered topics such as investing in space resources, which panelists believe will be key to increasing connectivity on earth. "Connectivity is the ultimate equalizer," said Cisneros. "[Internet] access should be a human right, just like running water or electricity. Companies like Satellogic and AST & Science are building the infrastructure to positively impact our planet." Miami-born AST & Science designs and manufacturers miniature satellites for low-Earth orbit, which served to both pioneer the implementation of wifi on airplanes and provide connectivity throughout many African countries for the first time. Powerful retail entrepreneurs Trina Spear from FIGS and Alexis Maybank from Gilt Groupe also offered words of wisdom. FIGS took an untouched, archaic industry and reinvented apparel for healthcare professionals. When Spear was asked to name the character traits her and her co-founder believe essential for scaling up FIGS, she answered, "Understanding that when you go down, you need to get up. Resilience and seizing the opportunity are the name of the game." While Maybank said, "You need to be open with your team whenever things don't go your way. Be transparent and make them understand that not everything will be a straight line upwards. Tell them how they can be part of the solution." Other speakers included George Tsintzouras, Founder and CEO of Alert Labs with Carlos Diaz, co-founder of Entic and VP of Business Development at Aquicore to discuss prop-tech; Emiliano Abramzon, co-founder of Nearpod provided insights on the future of ed- tech. Endeavor Board Members AJ Nahmad and Matt Haggman led the conversations. After the panels concluded, nine Florida start-ups from Endeavor's ScaleUp Accelerator's Cohort One, took the stage to pitch their ventures in the "Accelerator Demo" presented by Facebook. Head of Industry for Facebook PanLatam Daniella Valeriano, opened the session by emphasizing to the audience that, "social impact isn't just about putting out a product that solves a need, but about businesses' commitment to the communities we serve." That commitment to creating high-impact entrepreneurship was at the forefront of all the panelists' growth strategies. Then, at the end of the innovation-spirited day, attendees got to hear first-hand accounts of how scale-ups must drive growth, create disruption and work with passion in order to change and improve their communities. This is an ongoing effort, and one that Endeavor drives continuously by connecting entrepreneurs from all over in a single network to share knowledge, find inspiration and, ultimately, succeed in all their entrepreneurial efforts.
About Endeavor Miami
Endeavor Miami launched its operation in September 2013 with the support of Knight Foundation and possesses an active local board of business leaders that believe high-impact entrepreneurship can transform Miami. Endeavor entrepreneurs receive services that include mentorship, access to capital, access to global markets and access to talent. For more information on Endeavor Miami, or to nominate Miami entrepreneurs, please visit
www.endeavormiami.org
.