After five years of research and hard work, Anna Salewski, was able to redesign the shopping experience for almost every shopper's life. Scroble, a technology reinventing the brick-and-mortar of the retail experience while merging the offline & online environments.
It all started with a simple question: "why can't I find the clothes that I want?", said Salewski. When entering in a store shoppers are exposed to thousands of clothes, styles and accessories, many of them spend an uncountable amount of hours (a luxury that many can't have) searching for the right garments.
The amount of options that are being displayed has made it an overwhelming task instead of an enjoyable one. Not to mention, that most of the times shoppers don't even know what they are looking for – resulting in a waste of time, money and energy.
So, when Anna Salewski, an entrepreneur and mother of two children, found herself almost too busy to shop, she began asking these questions. Along her findings, she discovered that: 80% of the overall global consumption in the fashion industry offline retail, online commerce represents only 15% of US retail sales as the strongest fashion market world wide (Salewski, 2019). And, according to a NRF Survey, 98% OF Gen-Z's buy offline most of the times.
This proves, that although the novelty of online shopping is growing, the importance of the brick-and-mortar business model is still very relevant and it needs to be taken into consideration. Retail stores are "the only place where physical garment meets physical consumer and it remains the first venue of fashion consumption".
Hence, Salewski came up with a #FashionRetailTech that would improve the structure from its roots: challenging and developing a new system that better adapts fashion with future technologies bettering the shopping experience.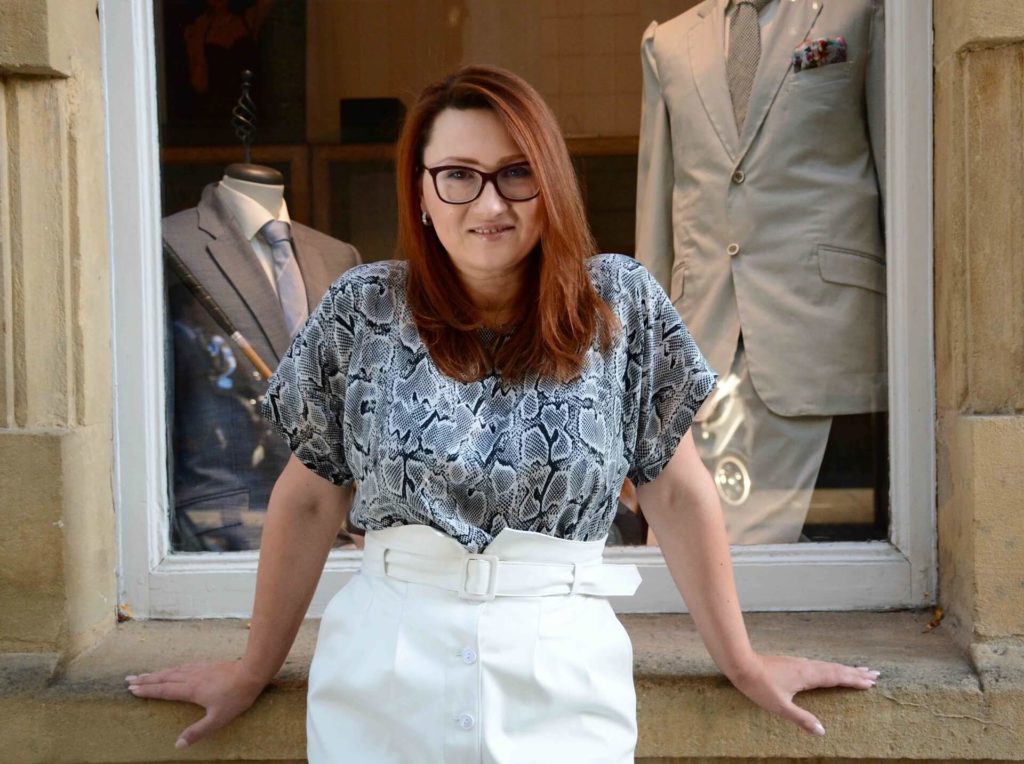 Q&A with Founder: Anna Salewski
1. What is your background?
I have studied economics and taxation, having also a master degree in international tax law. I started my career in the banking sector, where I became consciously aware that the corporate world and its work is not my future. Everything I did afterwards was happening under the guidance of my decision to become an entrepreneur, creating and managing my own business.
I was then working in the field of corporate services and tax advisory, having started my own advisory company in Luxembourg in 2009.
2. When was SCROBLE founded? Why was it founded? Was there a void that needed to be filled?
I am a passionate and creative out-of-the-box thinker, but also an analytical one. I think the combination of all those qualities enabled me to turn the problem I had discovered for myself into the concept and product that is designed to introduce the new business model and technology in fashion retail called SCROBLE.
I was starting to work on SCROBLE a few years ago along with my day job and took my time to dive deeper into the topic before starting with its realisation and company incorporation by the end of 2018.
The concept of SCROBLE arrived at an incredibly busy time in my life; I had almost no time for shopping. Next to my role as an entrepreneur and mother of two children, I was also writing my master thesis on technology, e-services and its taxation. Driven by my curiosity and fresh knowledge about pretty much all the existing new and advanced technologies, I started looking at possibilities to speed up the shopping process, while also making it more effective and enjoyable.
My initial idea was to create a tool that would eliminate obstacles between online and offline retail experiences. During this journey I discovered how many problems the fashion industry has and that my idea could help to solve a big part of them, so it became my passion and I decided to start with SCROBLE.
3. What is the future of fashion?
I envision a pretty different future for fashion and retail from all existing predictions that you can read about the same. Most tendencies are built on the predictions where AI and VR are going to play the major role.
This is partly true; however, only an algorithm of artificial intelligence cannot change everything and solve all the problems in fashion. Both technologies and blockchain will play a tremendous role in the creation of an experience and solve security issues. Technology wise, it still represents a tool. My dream and high hopes are going in the direction of changing the business model in fashion.
We could create an entirely new universe of experiences through the total fusion of online and offline commerce and direct connection between brands, retailers and users. This mutual and fundamental connection will create a world of new experiences in Fashion Retail, Digital availability and Accessibility of products from any and every single perspective – inspiration, shopping, communication.
If we think how we can then use AI, VR and blockchain – the application of those technologies in the frame of the new business model will bring us far going and different results. The algorithm and the programs are not able to transform the already existing processes and re-connect all dots.
Imagine if we could re-connect the dots and close this gap with a unified technology, AI will certainly play a completely different role. This would be an entirely different process, which I believe would need to follow after a fundamental transformation in fashion. And reconnecting the dots, reshaping our understanding of fashion and its retail will be the future of fashion.
That would be the future, when we can fulfil all the processes and wishes – from discovery anywhere and anytime, impression, direct communication and technological accessibility and availability of the products with one single interface – our mobile phones.
I see the future of fashion without "stores of the future", but with everything connecting experience – every single process will be guided with their own mobile phone where users will directly access a semi-shoppable and semi-gameable fashion content.
4. What would you say to new fashion brands about the fashion business and what to expect?
Even before COVID-19 we had an exceptional situation in fashion. The industry saw a period of time when many brands struggled to survive and overall the industry experienced the crisis. The reasons are different, most of them are due to the changing customer behaviour and expectations, whereby brands are not able to adopt and change so fast.
In my opinion, the existing business model is not giving that much room for adaptation to the future customer behaviour and changing demands. At a certain point of time, the current economic model in fashion would have faced its boundaries anyway, but now it happened even faster. There are two scenarios which can happen – brands will retain the existing business model and it will prevent the much needed transformation of the industry, or we will face exactly the opposite and we will see a huge step forward.
It is probably clear to everyone that fashion brands need to re-think, re-adopt and collaborate among each other and with innovative companies. User-centricity with multi-brand and omnichannel innovation rather than white label solutions is something all industry players must focus on if we wish to improve future business performance, single processes and fulfil customer wishes.
We should take a step aside and reconsider our current understanding of innovation in fashion where it is, until now, mostly reserved to the few high-end brands. This can be achieved through participation as an early adopter in new software solutions.
5. What do you think needs to change about fashion and the industry? How do you feel SCROBLE will play a part in that?
Many things can and should be changed in fashion to prepare for the future of post COVID-19 times, as well as a different conscious customer behaviour. We also need to plan achieving effectiveness in fashion and sustainability goals if we want to survive on this planet.
The first step to perform this is to change a fashion business model and to absolutely close the gap between both the universes of online & offline retail. This would enable not only the ultimate user convenience, but also help to improve all processes and deliver unique insights and knowledge about customer wishes and desires directly to the brands (pls read more about this in my articles).
Second, we need to reshape our understanding on how all parties interact with each other and redefine the content of this interaction. In this process, the role of the physical store and retail as we know it will undergo a huge transformation.
A different way of interaction within a physical space needs to be introduced and will reshape an entire understanding about the retailing in fashion. It would open the door to a flexible method of working between customers and also enable to keep stores open with contactless solutions even in case of a pandemic. Digital assets and digital business methods will enable brands to introduce a working flexibility.
Here we cannot wait for the next big black swan; we must change and be proactive, preparing the industry for any changing circumstance. Third, while doing all the steps above, we must focus on user-centricity while achieving brands' and retailers' business goals. This should be a starting point while reshaping fashion and adopting processes.
Last but not least, the tools needed to transform fashion will vary from content democratisation and unification, availability of digital garment content anywhere, anytime and the direct connection between user brands and retailers.
6. Do you see fashion changing completely via digitalisation and ways of technology or slightly?
It is very difficult to give one single answer to this question. There are a few areas where fashion innovates very fast – it considers application of visual search and VR technologies. However, and this is mostly applicable for bigger brands chasing marketing and prestige goals rather than focussing on a fundamental innovation in the process of building customer communication and improving of value chains.
For the moment I cannot reflect the broader changes by technology in fashion. For the moment, we have a very segmented and separate innovations corresponding to a brand's marketing needs.
For additional information visit www.scroble.com.
* Writer by Bernarda Chiriboga