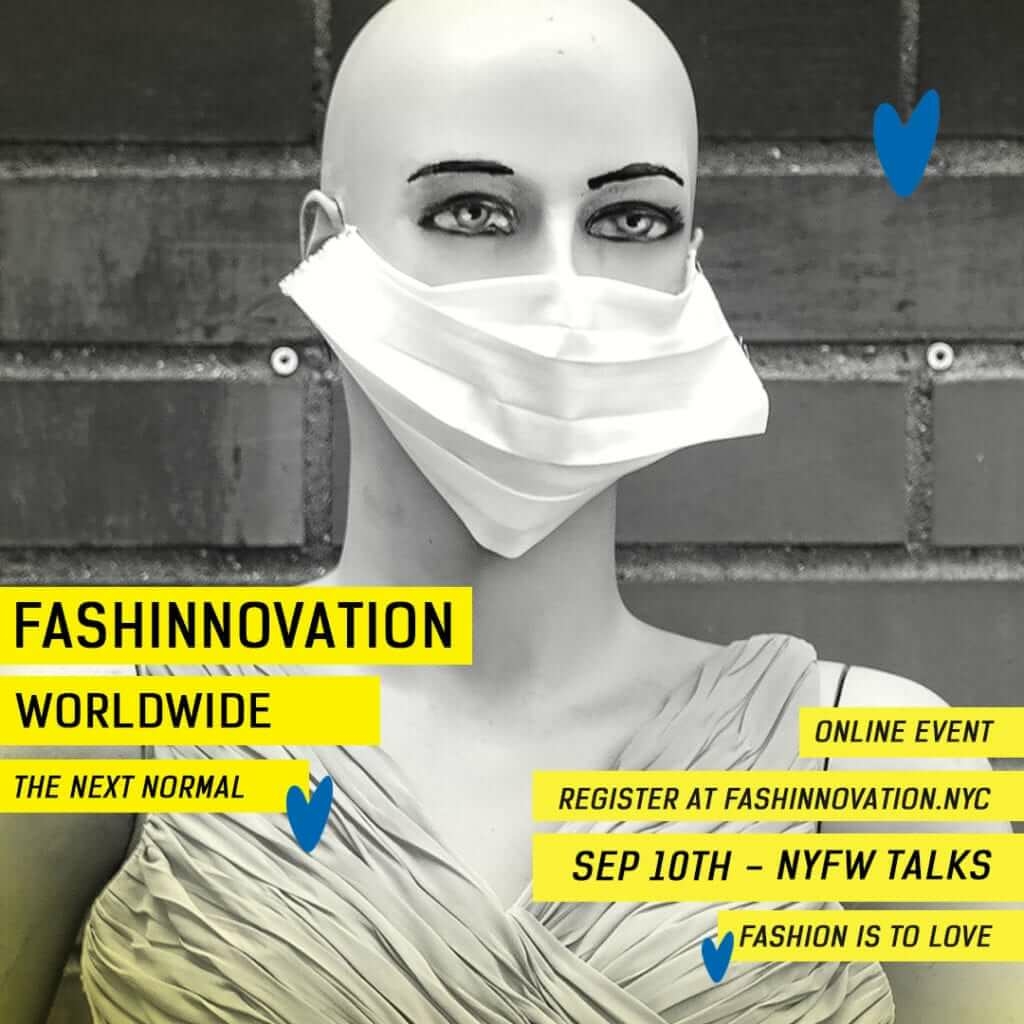 Fashinnovation held its 3rd Worldwide Talks on September 10th, 2020, in collaboration with the
UN Office for Partnerships
kicking off the
NYFW
. Even though the fashion world will not be able to come together in Spring Studios this Fall, Fashinnovation brought together global leaders in fashion, technology, and cross-over industries for a day-long online summit. Rachel Zoe, Abrima Erwiah, Rebecca Minkoff, Derek Blasberg, and many more came together to discuss the foreseeable trends in the next normal after the shake-down of the Covid-19 pandemic. 19 panels featuring
73 speakers
focused on the areas of sustainability, ethical sourcing, social justice, diversity and inclusivity, and climate change. Through interactive conversations, Fashinnovation created a global network for fostering change.
The Next Normal: Changing Demands
With Covid-19 taking the whole world captive in 2020 and the world sitting still under lockdowns, the way people experience daily life, connect with others and practice their businesses have been challenged and shaped. Speakers had the chance to share how they are adjusting their brands and companies to the changing consumer behavior and shifts in demand.
New Ways of Shopping
The way people shop has been affected by the pandemic. With the retail stores closed, online shopping demand got higher, driving businesses to increase their e-commerce volumes. As the stores started reopening, brands had to design in-store shopping experiences with minimum contact. Ophelia Chen, the co-founder of
Bobbehaus
, shared their reopening model with frequent sanitizing of sample items, QR codes for purchases, and curbside pick-up opportunities for those who wish not to sign up for delivery.
Content Reimagined: Authenticity and Accessibility
With the global lockdowns and offices switching to a work-from-home model, people spent time at home more than ever. Content strategy for influencer marketing is evolving to fit the new lifestyle. The focus shifted to skincare products, home gyms, and home apparel instead of creating content on the life of the party or traveling that are no longer relevant. Moreover, navigating through the new way of life during ambiguous times pushed consumers to look for accessible and authentic content to establish a shared experience. As a response, storytelling at media channels began shifting from creating a perfect vision to a human-first approach.
Clean Went Mainstream: Skincare
Clean skincare, makeup, and body products are getting sought after. Thanks to social media and an abundance of resources online, people are getting more informed about the products' components. Katia Beauchamp, co-founder and CEO of
Birchbox
, is envisioning an ingredient-safe industry as clean products become more mainstream. Beauchamp realized a 40% jump in demand for clean skincare products among Birchbox members during the pandemic. Stay-at-home orders led people towards minimal makeup and connected with their natural self, with most of the services unavailable. People began taking more time to care for the foundation of their skin.
Sustainability: A Larger Conversation
The panels on sustainability in the fashion industry at the 3rd Worldwide Talks all had an important message, which gets easily overlooked: Sustainability is not just about the environment. Sustainability in human rights, culture, art and design, and materials are factors under the impact of the fashion industry.
Human Rights, Diversity, and Inclusion
Sustainability is not just an environmental phenomenon, but also that of human rights. 2020 has been the year of the pandemic; however, it has also been the year of fighting for social justice, fighting against police brutality, and rekindling the Black Lives Matter movement. 2020 is a turning point. While people are trying to navigate the Covid-19 era's ambiguity, the pandemic has also shown people that it was time to change the current systems. While many companies and brands in the fashion industry voiced solidarity on social media, the socio-political vocalism should turn into action to build the groundwork for change. A change should stem from the within. Brands should restructure themselves and rebuild DEI policies to ensure BIPOC communities' representation, generate opportunities for marginalized communities to decrease the gap, and create safe spaces. A change should stem from the outside. The consumer has the power to change the way brands operate. Awareness, transparency, and creating authentic connections with brands and community are driving forces of such change.
Craftsmen, Artisans, and Cultures
A broader conversation about sustainability is the economic welfare and the welfare of the people producing the items. In the intersection of environmental sustainability, artisans in countries such as Nigeria, Ghana, and India feel the effect of climate change more heavily than their Western consumers. In the panel "Fashion is Sustainability in Culture," Morin Obaweya, CEO & Designer of Luxury Leather Brands at
Morin.O
, highlighted the need for technical expertise to carry indigenous craftsmanship to a global platform in African countries. As innovation flows into African countries, the social and economic lives of the women and youth working as craftsmen will scale up, thus contributing to social sustainability in the region.
Environmental Sustainability Through Fashion
3rd Worldwide Talks also re-emphasized the impact of the fashion industry on climate change. The fashion industry is
responsible
for 10% of the world's carbon emissions — partially caused by the industry's seasonality and partly by the materials used in traditional production methods. To limit the global temperature increase below 2 degrees Celsius, a goal set by the
Paris Agreement
, the fashion industry should rethink its operation. Sustainable design, chemicals used for materials and sourcing materials, seasonality, and consumer behavior patterns were under discussion at the panels, reiterating the importance of principles in work for a positive impact as people re-evaluate their relationship with the planet in the wake of Covid-19.
Empowerment and Identity Through Fashion
The fashion and beauty industries have been a space for self-expression of identities for people across the globe. Especially with the widespread use of social media, the platforms have become a place for individuals to get inspired, inspire, learn from a global perspective, and have their voices heard by others through easily sharing their content. Nigel Barker, a fashion photographer and judge on TV-hit America's Next Top Model, emphasizes the changing roles due to social media. Editor, designers, and photographers, who were an indispensable decision-making mechanism for the traditional fashion industry, have been replaced by a public audience, who gained authority through social media.
Rethinking the Future in 2020
Especially in 2020, the year of the pandemic, social justice, and influential self-expressionism of the upcoming generation, people had the time to think about inclusivity in fashion and other areas of life. Kristen Bowen of
White House Black Market
sees the pandemic as an opportunity for women to get rid of rigid ideas of traditional power dressing and find inspiration on available platforms as the barrier between power and femininity disappears. Inclusivity in the industry fosters confidence and authenticity. Jordana Guimarães, the co-founder of Fashinnovation, emphasized the philosophy of Fashinnovation: Fashion is not exclusivity. Fashion is diversity; Fashion is inclusivity.
Innovation in the Business of Fashion
Innovative technology is becoming essential for the fashion industry. The industry is attracting investments across sectors, and people have started to carry their careers into the fashion industry as innovation continues to grow.
Fashion Industry: Digital Landscape
Covid-19 led brands, creatives, and consumers to explore the digital landscape of the fashion industry. With an abundance of content available, Youtube's ease of sharing with a broad audience and high accessibility became a platform for exploring digital opportunities. From
live fashion shows
to subscription channels, Youtube cultivates an interconnected global network for the fashion industry members. While technology is opening up technical opportunities for the brands within the industry, branding and storytelling still play a crucial role in the communication between the brand and its consumers.
Entrepreneurship, Branding, and Storytelling
During the panel "Fashion is Entrepreneurship via Branding and Storytelling," Larry Gulko of
Brand: New Way
urged the audience to think about the effectiveness of being relatable to consumers and the role of creating stories that will resonate with them. Gulko's questions "What are you really selling?" and "What was your most recent product launch, and why was it significant?" challenged the speakers to identify the paths of their branding strategies.
Fashion is a Journey: Rachel Zoe Shares Her Path
3rd Worldwide Talks hosted Rachel Zoe, Founder and Chief Curator of
CURATEUR
(aka Box of Style), shared her journey from her college years to becoming a founder and a CEO. While she dived into the ins-and-outs of the fashion industry as well as work-family balance as a working mother, she also advised people working their way into the industry to find their voice, stay extremely focused, figure out their meaning to their community and their community's meaning to them, and speak up for themselves. In the wake of Covid-19, Zoe envisions that Change will take over the fashion industry.
Growing With Venture Capital: Shark Tank Competition
During the Shark Tank competition, powered by
Gorgias
, featuring Jordan Nodarse of
Boyish Jeans
and Patrick Robinson of
Paskho
tried to persuade Madeline Kealen, and David Rogg into investing in their business. Boyish Jeans aims for minimal impact on the environment through innovation and sustainability in the fashion industry. Since their establishment, they have positioned themselves as a leader in the area. Paskho focuses on dressing the under-served socially sustainable apparel market. Their product is made by digitally mobilizing teams from their home and efficiently and effectively creating designs that are both comfortable and fashionable. Both Nodarse and Robinson had 7-8 minutes for their pitches and to tell more about the background of their business, how much capital they were looking to raise, what they would do with the capital, and relevant statistics such as revenue numbers. The winner of the 3rd Worldwide Talk's Shark Tank Competition is Patrick Robinson of Paskho!
Fashinnovation X Bigthinx Virtual Fashion Show
The 3rd Worldwide Talks had its finale with a virtual fashion show, demonstrating what the fashion industry can achieve through innovation. The partnership of Fashinnovation and
Bigthinx
offered a glimpse into the future of fashion. 11 brands from around the world, including
Rebecca Minkoff
and
Bobblehaus
, showcased their pieces on real-models-turned-avatars. The avatars of different colors, sizes, and physical conditions walked on a 3-D runway through a futuristic world erected on top of classical statues to music by West Bengal artist
Dreamhour
, communicating the message: The Next Normal is Inclusivity. If you have missed the show, you can
watch the 3-D Virtual Fashion Show here
! You can also watch the panels from the 3rd Worldwide Talks on our
Youtube channel
! Please check out
our IGTV
to catch one-on-one interviews with the speakers. Don't forget to bookmark Fashinnovation's
website
to stay tuned for engaging content on the fashion industry and innovation! By Elif Kesikbas